Sustaining Performance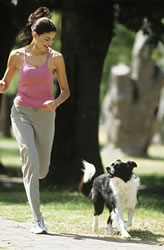 The relationship between chiropractic and fitness has been redefined. Although most chiropractors still focus on helping people prevent and recover from back and joint injuries and misalignment, more attention is being focused on preventing injuries among exercisers and athletes who want to preserve heir fitness. This trend is born of greater interest in exercise and healthy lifestyles.
Exercise-minded individuals are likely to find that they can learn a lot about their bodies' structure from a chiropractor, who has a great deal of knowledge and experience with biomechanics. A chiropractor can assess problems and weaknesses as well as design a detailed program to meet active people's need. Along with good nutrition, exercise is a key factor in maintaining health.
Let our staff of professionals help you achieve optimum health. We remote a drugless, non-invasive form of health care that addresses your lifestyle and any physical issues affecting your joints and spine through procedures such as custom exercise routines. Call us at 860-621-2225 to schedule an appointment. Make regular chiropractic care your first choice., not a last resort. We're located at 200 Queen St, Southington, where we're currently accepting new patients. We offer affordable healthcare for the whole family.
P.S. A chiropractor can provide runners and gym goers with valuable insights into their musculoskeletal systems that can improve their performance.