​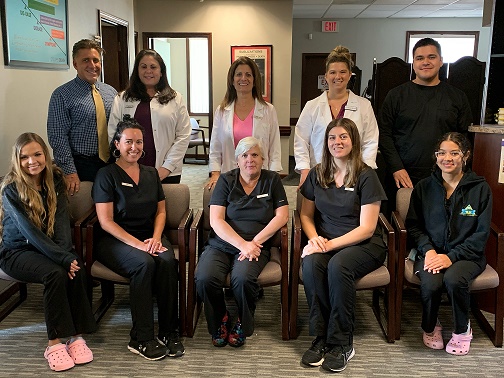 ---
Dr. Stacey K. Raya, Founder of the Raya Clinic
Dr. Stacey Raya is the founder of the Raya Clinic located in Southington, CT, and has been in practice for 30 years. She was born in Brooklyn, NY and raised in Manalapan, NJ. She graduated in 1987 with a Bachelors of Science degree in Biology from Rutgers University in New Brunswick, NJ. She earned her Doctorate of Chiropractic in 1990 from New York Chiropractic College.
While in practice, Dr. Raya has earned three Post-Doctorate degrees. She became a Diplomate in Pediatrics and Obstetrics in 1998 while concurrently passing the Board to become a Fellow of the International Academy of Medical Acupuncture. She is board eligible for her Diplomate in Acupuncture, and is certified as an Orthopedic Acupuncturist. She also uses her certification in Cranial Sacral Therapy to complement her chiropractic and acupuncture balancing techniques.
Dr. Raya has an outstanding reputation in the holistic health care field. Her philosophy is based on the premise of the "Triad of Health" which is a combination of Chiropractic, Acupuncture, and Nutrition. This is accomplished by balancing the energy in the body through acupuncture, helping the body heal itself by assessing and correcting nutritional needs, and by restoring optimal function by removing interference in the nervous system using chiropractic adjustments.By combining her years of experience in these three areas of expertise, she has helped to heal thousands of patients during her career.Dr. Raya continues to welcome and enjoys treating the most challenging cases involving pain, chronic illness, and emotional trauma.
When not practicing or attending postgraduate seminars, Dr. Raya spends all of her time with her husband, Vinny, three sons Joey, Anthony and Michael, her special dog, Gigi and their large extended family.
Education
Doctor of Chiropractic, New York Chiropractic College , 1990
Bachelor of Science in Biology, Rutgers University , 1987
Post-Doctoral Degrees
Diplomate, International Chiropractic Association Pediatrics and Obstetrics
Diplomate, International Academy of Medical Acupuncture
Diplomate, Medical Acupuncture Orthopedics
Certified Craniosacral Therapist, Upledger Institute of Neurological Disease and Trauma
Certified Koren Specific Technique
---
Dr. Jeana Forant, Associate Doctor
Dr. Jeana Forant graduated from the University of Bridgeport College of Chiropractic. Prior to attending Chiropractic school she attained a BS in Biology with a minor in Chemistry from Albertus Magnus College. Her clinical training took place at the UB Health Science Center and Optimus Healthcare facilities. Dr. Jeana has a strong belief in the power of Chiropractic and the body's natural ability to heal. She is extremely committed to changing the lives of her patients. Dr. Jeana has done extensive volunteer work in the cancer community and hopes to eventually use Chiropractic to help treat cancer patients. Additionally, Dr. Jeana is our spinemed coordinator with an extensive amount of experience in spinal decompression. She also has a strong interest in nutrition and has studied the use of blood testing to diagnose and treat a large variety of health conditions using nutritional supplements.
She is married to her husband Michael of 10 years, and has two amazing children Austin and Lily.
Education
University of Bridgeport Chiropractic College, 2010
Doctor of Chiropractic Degree
Albertus Magnus College, 2006
Bachelor Degree in Biology, Minor Degree in Chemistry
---
Dr. Marcus Yancoskie, Associate Doctor
Dr. Marcus Yancoskie brings 24 years of Chiropractic experience as co-owner of Huntington Chiropractic in Shelton, CT. After a fire destroyed his practice location, his colleague, an attorney, put him in touch with Dr. Raya noting that both doctors had the same passion for best possible Chiropractic care and true compassion for each patient.
Upon meeting Dr. Raya and the warm, welcoming staff at the Raya Clinic, Dr. Marcus realized that the Raya Clinic offers the most advanced healing techniques in the holistic health care field.
Dr. Marcus is a firm believer that Chiropractic unlocks the body's innate ability to heal itself. By joining the Raya Clinic team, he looks forward to delivering the highest quality of care to each individual and their family.
Dr. Marcus specializes in improving athletic performance, managing sports-related injuries, and personal injuries.
Dr. Marcus is a certified Injury Prevention Specialist who educates patients about how to prevent and manage their injuries. He informs them that injuries may occur from any type of stress including repetitive, physical, emotional, and mental stress. He teaches them ways to avoid putting undue stress on their bodies both at work and at home. He has taught classes at Con Edison, IBM, Sikorsky Aircraft, and the US Postal Service.
An avid educator, Dr. Yancoskie has presented health lectures to students and faculty at the University of Bridgeport Naturopathic College. He has also lectured at churches, schools, day cares, libraries, community centers, and health fairs. Dr. Yancoskie has worked with the Oncology Nursing Society to organize a community outreach program for cancer patients, care givers, and cancer care staff. He has also worked closely with Griffin Hospital's Community Outreach & Parish Nursing programs to educate children and parents.
He was awarded a Heroic Service Award by the Connecticut & New York Chiropractic Councils for providing Chiropractic emergency care to the relief workers at ground zero after 9/11.
In his free time, Dr. Marcus loves to spend time with his two wonderful children, Marcus & Francesca.
Education
University of Bridgeport Chiropractic College, 1996
Doctor of Chiropractic Degree
Southern Connecticut State University, 1992
Bachelor Degree in Economics, Minor Degree in Nutrition
---
Dr. Renee Brown, Associate Doctor
Dr. Renee Brown graduated with a Bachelor of Science degree from Russell Sage College in 2009. She continued to University of Bridgeport College of Chiropractic where she graduated with honors and earned her degree as a Doctor of Chiropractic in 2013.
Following her graduation, Dr. Brown worked as an associate at the Raya Clinic for 3 years. She then worked as an associate in East Lyme, CT for another 5 years before deciding to return to the Raya Clinic family. She is trained in a variety of techniques, including diversified technique, Activator technique, instrument assisted soft tissue mobilization, and multiple soft tissue techniques.
In her spare time Dr. Renee enjoys spending time with her husband, Garrett, and their two beautiful children, Gavin and Felicity.
Education
Doctor of Chiropractic, University of Bridgeport College of Chiropractic, 2013
Bachelor of Science in Chemistry, Russell Sage College, 2009
---
​Bryan, RT(R)
Bryan is a graduate of Middlesex Community College with an Associates degree in Radiologic Technology. He served in the USAF before coming to Raya Clinic. Bryan is currently completing a certificate program in Magnetic Resonance Imaging. He is passionate about helping patients to ensure they receive the care and attention they deserve. In his spare time, he enjoys spending time with his wife and friends.
---
Dawn, Insurance and Billing
Dawn has been a member of the Raya Clinic team since 1994. Her main responsibilities are Insurance Billing, Collections, and Insurance. She also works with Attorneys on Personal Injury Cases and Handles Work Comp cases. Dawn is an experienced chiropractic assistant with over 25 years of experience. In her free time she enjoys spending time with her 2 daughters and her husband.
---
Jennifer, Front Desk
Jennifer is a graduate of University of Hartford and the Manchester Metropolitan University School of Business. She has worked in the healthcare industry for three years before coming to the Raya Clinic, and she is happy to help assist patients and doctors alike in working towards their holistic healthcare goals. She loves learning and recently completed her chiropractic assistant certification program. In her spare time, she enjoys going on runs, painting, and spending time with family and friends.
---
Janessa, Front Desk
Janessa graduated from EC Goodwin Technical High School in New Britain,Connecticut. Before joining the Raya Clinic, she worked at St Francis Hospital in Hartford, Connecticut. Her career aspirations have always been to care for patients and be in the healthcare field.

Janessa looks forward to meeting you. She will greet you and is ready to assist and help you achieve the higher level of health,

When she is not in her role of Chiropractic Assistant at the Raya Clinic, she loves spending all of her free time with her loving son enjoying fun activities.
---
​Jenn, Chiropractic Assistant
Jenn is a graduate of Springfield College with a Bachelor of Science degree in Exercise Science. She has 23 years experience in Health/Fitness/Wellness. Jenn's careers ranged from Physical Therapy Aide to a Fitness Trainer and Instructor, as well as Corporate Fitness and Wellness. She loves helping people become the best version of themselves spirit, mind and body. In her spare time, Jenn enjoys working out, reading, traveling and spending time with family and friends.
---
​Audrey, Chiropractic Assistant
Audrey is a Plainville High School graduate, and attended Tunxis Community College studying Liberal Arts and Sciences. She has a certification in Personal Training as well as a Nutrition and Wellness certification through The National Personal Training Association. In her free time she enjoys going to the gym and spending time with family and friends. She is very passionate about being healthy and staying fit, as well as caring for others and impacting their life in a positive manner. Audrey looks forward to assisting you to achieve your health and wellness goals at the Raya Clinic.
Congratulations to our group of Chiropractic Assistants who are now officially CA certified!